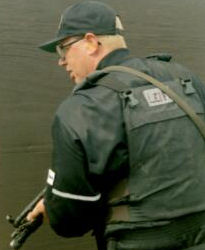 ABOUT APM
Academia Praetoriae Mundi is an international educational organization for professional bodyguard- and selfdefence training.
Protecting another persons life and health is one of the oldest professions in the world and can be traced all the way back to the antique city of Rome, 2000 years ago. The Roman Emperor and his family were being protected by the the best soldiers in the Roman empire, The Praetorian Guard.
Today bodyguards come from different backgrounds and professions, and most of them lack professional training. The training available has been of various quality and mostly focusing on getting as many people as possible through the system, not looking to ensure the quality of the education or offering further training. Training for those already working in the field has been almost non-existent.
Academia Praetoriae Mundi was founded in Sweden on October 14, 2000. The main purpose was to guarantee quality of training and to establish a high international standard for professional bodyguards. This high standard is being maintained by organizing training, supervised by experienced and highly skilled instructors and testing the skills of those undergoing training on a regular basis.
APM is member of Stockholm Chamber of Commerce.